INTERVIEW: Tirade World's Music Columnist Grace Mae sits with Camidoh | Watch Here
Afro-pop sensation, Camidoh, is on the path of world domination but with the highs, come the lows. On the cusp of his global takeover, Camidoh sits with Tirade Music Columnist, Gracey Mae, to share his journey so far, his inspiration, and the album that never was – did someone say back up your hard drive? Join us as we unpack highlights like being co-signed by music royalty, performing to the largest Ghanaian music audience in the diaspora, being nominated for multiple awards, and being motivated by love.
Interview — GRACEY MAE
As an Afro pop singer/songwriter/producer/pianist you do it all but why was your nickname 'Fingers"?
Basically, I'm really obsessed about the things I love. So at the time where I got really inspired by Akon and start making music, I would portray what is playing on the beat with my fingers. It's been like that since forever! When I was in like high school, all my friends would call me "Fingers'!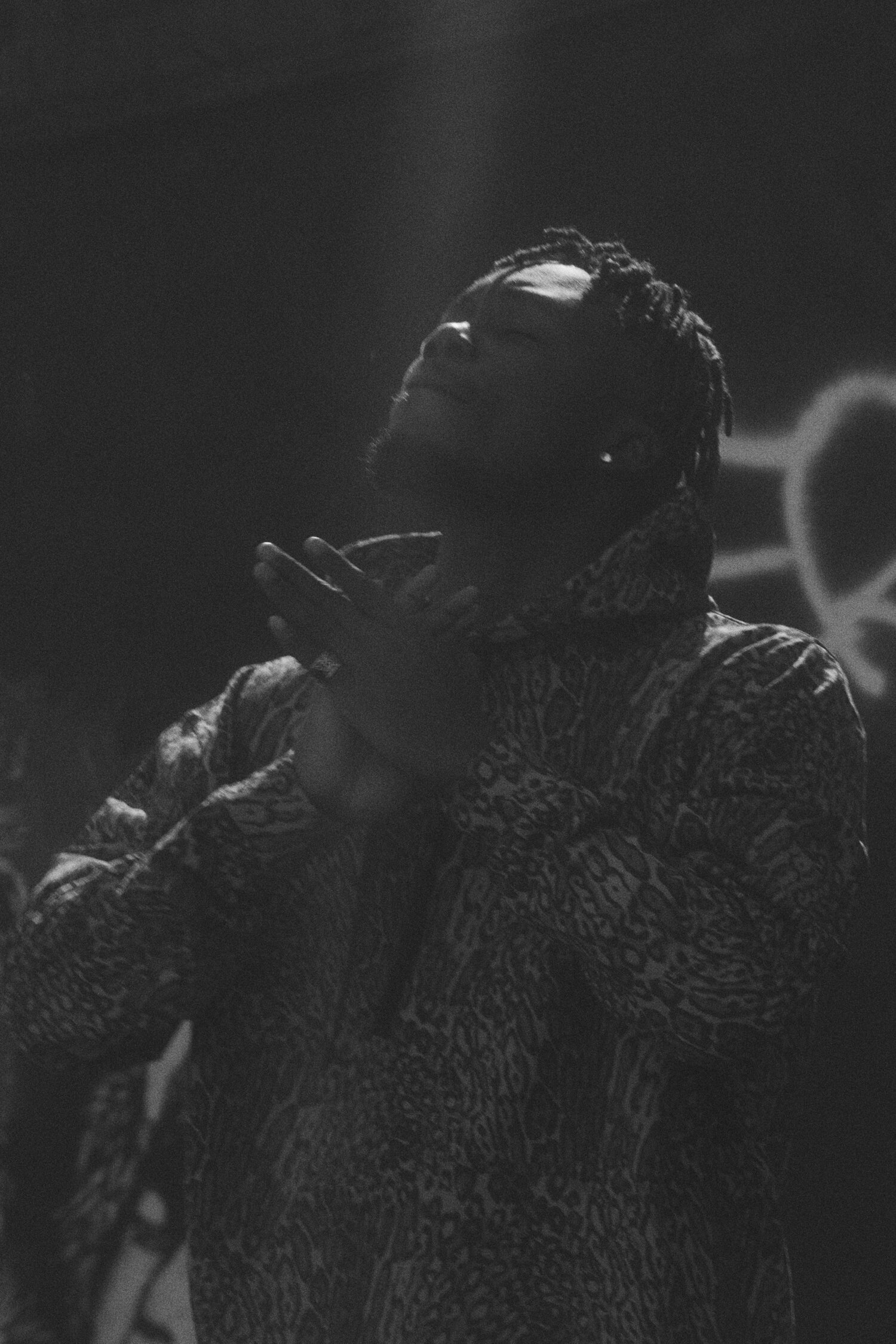 So, when did you evolve from 'Fingers' to 'Camidoh'?
That was a long time ago. I remember it was my mum's best friend's nickname before. When I heard it, it's stuck in my mind; it just sounded cute to me. I think my mom's best friend died or they haven't been in touch in a long time ago. So, when I was going to pick a Facebook name, I had to pick two names first name and surname – I chose Fingers Camidoh. I told my mom that I kind of like it and I want it to mean "blessing to me" so we prayed over it together and then we registered it as my legal name.
Mad! One of your signatures is your bright aqua hair. Rumour has it that this wasn't the intended colour when you sat in the salon chair. Tell us all about it!
Well, I realised that my hair started growing into dreadlocks and then a lot of the new crop of artists that were coming in at the time were having dreadlocks, so I wanted to stand out. I read marketing in uni so I kind of have a little idea about branding. I went to the barbershop, and I wanted to dye my hair grey but then this barber started to lie to me. He was like, "oh, grey will make my hair cut quickly. I'll lose my hair quickly" and all, instead of just going to the point, by telling me that he didn't have the grey colour [laughs]. I asked him what he had and then he showed me this [aqua green] one so I was like "If I do it, and I don't like it, I'll come back and change it" but I did it and I kind of like liked it. People were loving it. And then I was like, "Yeah, this is it. Let's go with it".
It's totally you. I love it. You give us Afro-pop and Afrobeats but is it true that you started off as a rapper?
I got inspired to get into music by Akon, so I started singing like him, mimicking his stuff and all of that. I would even wear white tees and jeans to perform. Then when Sarkodie broke out in 2008, I remember everyone around that time would learn his raps. I was the only one left out because I couldn't speak Twi at that time. I had to force my cousins to teach me how to rap because it was like a whole thing where the boys in the community will come around and everyone will be rapping like, and then I'd be left out. I called my cousin, and I was like, "teach me the raps" and so he taught me everything. And that's just how Sarkodie began to inspire me, and I listened to him back-to-back. I decided to rap because of Sark so that's just how I began rapping. I began off as a singer, then a rapper, then back to a singer.
Sarkodie did an interview where he mentioned that you were in the studio together and he said, "there was nothing stopping you from being at the very top". Can you tell us a bit more about that session and how it felt to hear your inspiration say you're the next best thing?
We went to the UK mainly for 'Ghana Party in the Park', we had dinner with Sark and King Promise. Then he said that he was available to have a session with us if any of the artists wanted to spend some time in the studio with him. So, I said, "Yes, I'm definitely grabbing that opportunity". When I got there, I saw that as big as he is, he's still very concentrated when he's in a studio. When I saw him, my heart was beating because I felt like "This is it, bro". When I started singing, I would sing over and over again, trying to perfect what I wanted to sing. I was like, "Please, I'm sorry, I'm not trying to take all the time". But he was like, "Nah, take your time, I love what you're doing, I actually do what you're doing". So that made me feel special and it made me feel like I learned from the best. I've always believed that I have a special talent and I'm really gifted but coming from him also meant a lot and that's why I kind of copied that part of the interview – I posted it on all social media platforms. I really love Sark for his work ethic, his composure and everything. My mentor just told me that I'm dope and nothing is stopping me. From that day, I just told myself that I don't have to let nothing limit me; not even my negative thoughts, financial constraints, or nothing. I'm gonna go all round and hit the hit the mark.
We're here for global domination. Let's talk about your dope performance at 'Ghana Party in the Park'; it's possible the largest Ghanaian music festival in the diaspora. What was it like for you to perform to the UK crowd?
Well, I feel like the narrative has always been when artist fly to another country to perform, the only time they are happy is when they get the crowd raising their hands, jamming to their music but I feel like I understand the concept of touring. The idea is to take your music to the people who you think do not know your music, so that was my mentality. I came there not feeling like anyone knew my music. I came there to sing to the people and that's just what I did with the little time that I had. I tried to give them me, so I left there with a beautiful experience. I feel like it was a platform for me to learn how the UK crowd relates to artists and I learned a lot. I also saw other artists before performances like Darkoo, King Promise and all of them. So, it was a learning curve for me and also, I just feel like it was a beautiful experience for me.
Talking about beautiful experiences, congrats on your three nominations at the VGMAs: Best New Artist, Best Afrobeats/Afro-pop song, and Best Afrobeats/Afro-pop Artiste. When you found out the news, how did you feel?
I felt blessed. I feel like the world is actually loving what I'm doing. To be honest with you, I didn't even care about winning the awards, because I felt like it's step by step! I came from nothing – that's my first entrance into the VGMAs with three nominations. That's not a joke. These things just solidify the fact that I'm a great artist and I'm not to play with my art. I don't have to take it for granted. I believe that sooner or later the world is going to see the amazing stuff that I have in me.
I'm sure this will definitely be a blessing in disguise. As a producer, are you going to be making any beats for this album?
With the one that crashed, I did a couple productions like the one that I put out with Kwesi Arthur. This time around, I just allowed producers to send me beats! I met some producers in the UK too. Then I can just invite writers into the session, we write together and then we create, so I don't think I'll be doing much production. I've done one which I'm loving but yeah…
Love the name drop. What was it like working with Kwesi Arthur on 'Dance with You'?
I think it was beautiful. I met him fresh around the time that I made the music. We exchanged contacts, back in 2019, then I just sent him music. He was driving somewhere but he told me that this was fire. For some reason, I just left it for him. I didn't want to give it to no other artists, I knew I wanted a feature on it, but I just left it – I just forgot about it. Fast forward some months, he was just like "Hey, bro, I've got the verse ready" and he sent it to me. I felt blessed because at that time, my executive producer had made me a promise. He loves Kwesi so much, so he said, "if you were able to get like in a session with Kwesi, I'll fly you over to Dubai". Then the song came but you know COVID… so he's like "Yeah bro, I owe you a Dubai trip". So shout outs to Kwesi! He's an awesome artist so I feel like I want to do more with him. I want to actually be in a session with him and get to vibe with him proper and make music live with him. I'm hoping that that will happen in the near future.
Any final words?
I want to say a special thank you to everybody that listens to Camidoh's music and loves my music. Thank you so much! Just know that COVID is still around the corner so keep safe, wear your mask wherever you go, and grab sanitizers. I want to say a special thank you to King Sark(odie), a special thank you to King Promise, a special thank you to my team Grind Non Stop, GB Records and Cruise Global for the support. They have really been the best team so far. Special thank you to you Gracey and a special thank you to Tirade for having me. God bless you all! Love – 'Midoh say so. Rah!